It's been a little while since I've posted; the pre-hunting season is one of our busiest times of the year. Of course, hunting season means that I need to get out and product test our gear. If only I could find all those elk that I saw during my scouting trips…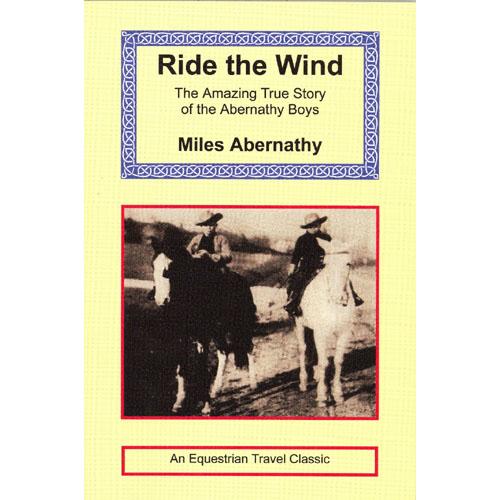 I did finally read "
Ride the Wind
", the story of the Abernathy Boys. As I read, all I could think was, "This has to be fiction. It's impossible for a 5 and a 9-year old to have survived all that these two survived!" The book was written by a close relative a year after the two tiny travelers returned from their journey, and is written almost completely from their point of view. I was constantly entertained and amazed. Bud (only 9!) convinced his father that he could manage a 1,000 mile trip from their homestead in Oklahoma to Santa Fe, and back. He then navigated his chosen route, keeping himself, his 5-year-old brother and their two horses safe from all the Old West Obstacles they encountered. They even managed to return home in time to slide into their desk seats in time for school. Unlike most teenagers I know, they even met their deadlines for checking in with their father.
If that wasn't enough, the boys plotted and planned for a trip the following summer - all the way to New York City - and they somehow managed that trip only slightly worse for wear. I was disappointed that the book ended in New York; one of these days I'll have to buy the "sequels".
Instead of riding the horses back home to Oklahoma, the boys took a couple of driving lessons and drove a tiny one cylinder car called "The Wildcat". Their motorized adventures can be found in the book, "The Remarkable Ride of the Abernathy Boys", written by Robert B. Jackson.
Their most unbelievable journey, was taken a year after "Ride the Wind", in the summer of 1911. The boys rode alone from New York to San Francisco in only 62 days in the saddle. I've been told that "Bud and Me", written by Temple's wife, Alma Abernathy, is a great book journaling this trip.
The story was funny, frightening, and inspirational. All in all, I enjoyed reading the "Ride the Wind", and feel it's appropriate reading for just about any age.